Dilium to unveil a Smart Mirror that cares about your health at CES 2021
For its first time as an exhibitor at CES®, dilium will show its Smart Mirror prototype. Leyer aims to be a trusty companion in health monitoring.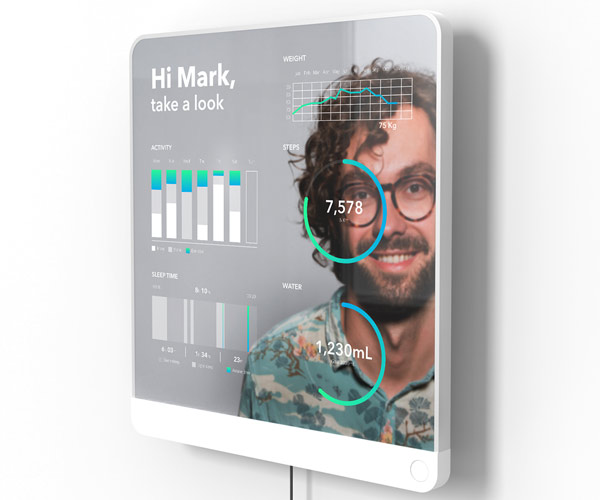 Dilium continues its efforts to drive social impact with its solutions and this time, it will do so for its first time from the CES® international stage. After releasing SafeTruth, the Blockchain App to tackle counterfeiting and the development of AR experiences to better inform patient about medication, the startup located in Milan, will unveil at CES its next project: Leyer, a prototype of a Smart Mirror capable of monitoring and helping users in maintaining their state of well-being, in an attempt to bridge the gap between everyday life and innovational technology.
Times of uncertainty can be difficult, but technology can help improve your well-being. In a year characterized by the Covid-19 pandemic, presentation of solutions aimed at supporting the health's normalization process takes on even greater importance. Leyer focus on improving well-being by complementing and organizing health's information on the surface of a mirror, making the best use of your care time.
The CES® in Las Vegas represents a pivotal opportunity to show innovative ideas, prospective and devices that have yet to be launched on the market, in fact, Leyer will be launched through a crowdfunding campaign. For the 2021 All-Digital edition, CES will take advantage of streaming, videoconferencing software and virtual reality and dilium is eager to be part of such an important event, presenting Leyer to the public for the first time from a personal virtual exhibition stand. We thank the ICE Agency for this great opportunity and for the constant support in promoting the internationalization of Italian startups.
The CES 2021 is scheduled from January 11, Monday, to January 14, Thursday. To register for the event, you can click on the following link: https://ces2021.eventcore.com. To find out more about Leyer, visit the official website or consult the project page.